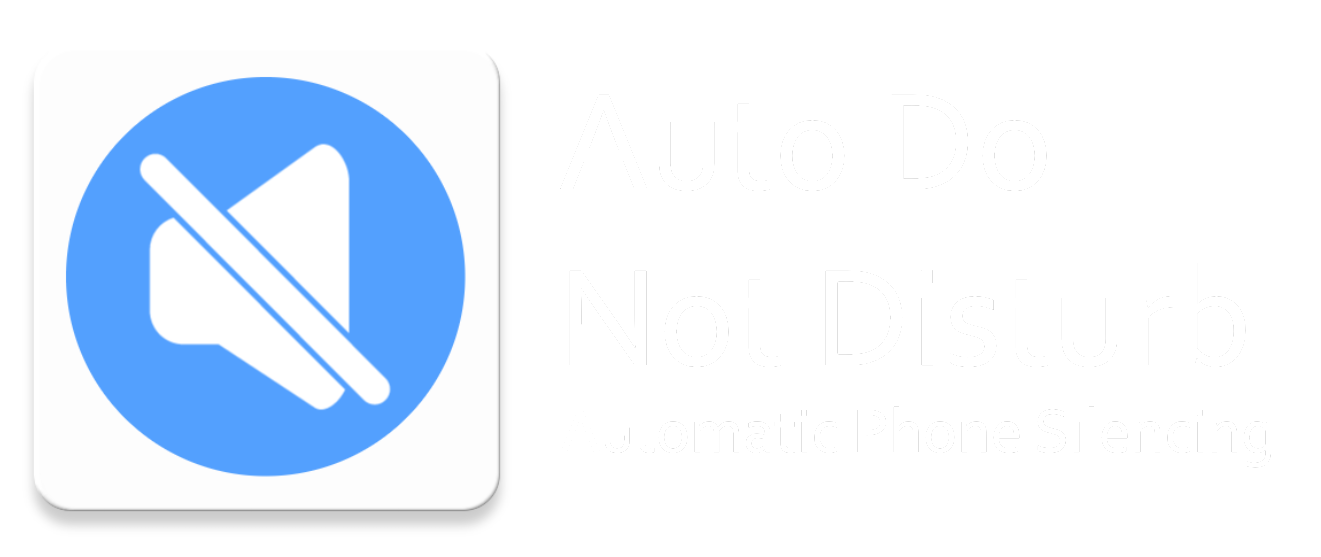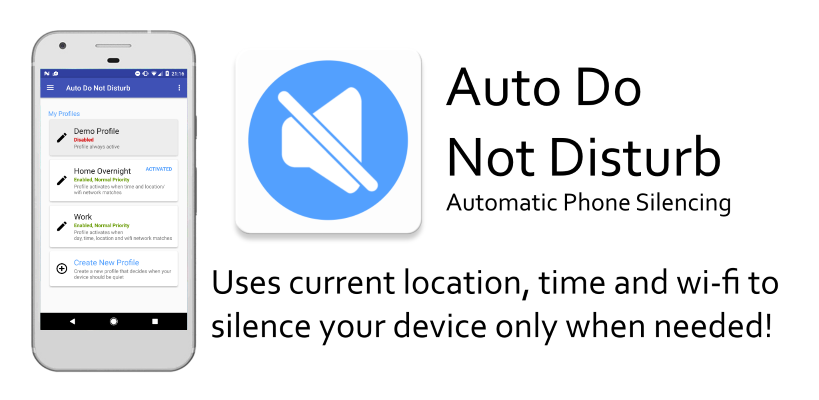 View in-app screenshots
Description
Ever forgotten to take your phone off of silent mode? Ever had your phone ring during your morning meeting or in class? If so then this app fixes that!
Auto Do Not Disturb is a highly configurable app that can use the current time, your current location and your currently connected Wi-Fi network to automatically change your device's ringer mode or 'Do Not Disturb' (Marshmello+) setting.
For example you can specify that when at work you want your phone on vibrate and when at home overnight on weekdays that you want your phone to be put into 'Priority Only Do Not Disturb' mode - This mode is a part of Android Marshmello+ which allows you to specify 'priority' notifications to receive and even has support for calls to only ring if they dial twice.
This app is available for android only.
Features


Setup custom profiles that specify when your device should be silent, or loud, etc...
Priorities can be set to profiles to allow higher priority profiles to override lower priority ones
Location, Wi-Fi and Time constraints can be configured for profiles
Supports changing the device's ringer mode - Silent, Vibrate, etc...
Supports changing the device's 'Do Not Disturb' setting - Priority only, total silence, alarms only, etc...
Supports, when a profile deactivates, reverting the ringer mode and/or the 'Do Not Disturb' mode back to the value they were previous to the profile's activation
Compatible with android devices from 4.4+ (Kitkat)
Beautiful and simple user interface
Low battery usage - Achieved via efficient handling of location polling and evidenced via real world testing, in addition background battery usage can be almost completely eliminated by specifying both a location and a Wi-Fi network for a profile (And requiring only one to be correct, not both, for the profile to activate)
Contains settings that advanced users can tweak to optimize their experience with the app
In-App you can purchase Premium. Premium users have adverts removed, the ability to create and enable more profiles, the ability to specify individual days for which profiles should be active (Non-Premium users are restricted to 'Weekdays', etc...) and are able to search for a remote location when setting up a new profile.
Privacy Policy
You may view the privacy policy for the app
here